Earlier this summer we were asked to create a large group photograph for the Society of Hispanic Professional Engineers as they visited Denver for their conference. With a group of nearly 300, and the client requring a strong vertical orientation on the photograph to match the magazine layout with an outdoor theme, we had our work cut out for us! Unfortunately we couldn't move the group's schedule or location to allow for a Colorado mountain background (the sun would have been in their eyes at 8am!) so we opted for the gorgeous green Inverness Golf Course at the Inverness Hotel and Conference Center.

With the sun behind everyone, we had to light the enormous group. Our assistant Gary set up two large portable monolights on 12' stands with 6' diameter photo umbrellas to spread the light. Talk about putting a sail in the wind! These umbrellas swayed back and forth but held firm to the ground for us. Tim ascended 20' in a scissor lift and bellowed out his instructions to the crowd, keeping them attentive and somewhat entertained for the whole shoot.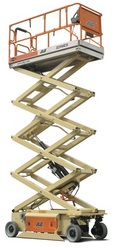 We photographed the image just a little wider than you see below so the graphic designers would have room for their logo and cropping as needed. The 12 megapixel image worked great for publication resolution.

Ultimately we conducted some minor post-processing artwork to replace a couple faces who were blinking or looking away with a great face and send the final product to our client within two days so they could meet their publishing deadline!

It's always fun to see the final product come together in the final published copy and rewarding after all the work that goes into making an image like this.